Medicare Pay Cuts Partly Averted in Massive Budget Bill
27/12/2022
Congress averted bigger reductions in Medicare's future payments for clinicians in its massive, year-end spending bill, but physicians will still see a 2% cut in a key payment variable in 2023.
The bill also authorizes new policies regarding accelerated drug approvals and substance use disorder treatment.
The House on Friday voted 225-201 to clear a wide-ranging legislative package, known as an omnibus, for President Joe Biden's signature. The Senate on Thursday voted 68-29 to approve the measure.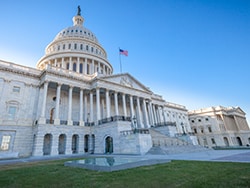 Clinicians had been facing as much as 8.5% in cuts to certain factors that set their Medicare payment. The American Medical Association (AMA) credited an advocacy campaign it joined with more than 150 organizations with fending off the much-feared reimbursement cuts. The 2% trim for 2023 will decline to 1.25% for 2024.
These reductions will hit as many clinicians face the toll on rising costs for running their practices, as Congress has not included inflation-based payment adjustments in Medicare's physician payment rule, the AMA said.
"Congress must immediately begin the work of long-overdue Medicare physician payment reform that will lead to the program stability that beneficiaries and physicians need," AMA President Jack Resneck, MD, said in a statement.
While the omnibus bill blocks 6.5% of Medicare payment cuts originally slated to take effect in 2023, it still puts "untenable strain" on primary care clinicians, said Tochi Iroku-Malize, MD, MPH, president of the American Academy of Family Physicians (AAFP) in a statement.
"However, we're pleased to see several provisions that will improve access to care, including bolstering mental health services, extending telehealth, and expanding Medicaid and CHIP coverage," Iroku-Malize added.
New Healthcare Policies in Omnibus
Lawmakers adopted many healthcare policy changes in the omnibus package, which contained 12 overdue spending bills for fiscal year 2023. (Much of the federal government has been funded through stop-gap measures since this budget year began on October 1.) The final measure runs to more than 4100 pages in PDF form.
House Energy and Commerce Chairman Frank Pallone Jr. (D-NJ) said the healthcare provisions will:
expand patient access to opioid addiction treatment by making it easier for clinicians to dispense buprenorphine for opioid use disorder maintenance or detoxification treatment

require healthcare providers to complete a training requirement on identifying and treating patients with substance use disorders

guarantee 12 months of continuous Medicaid coverage for 40 million children

provide 2 years of additional Children's Health Insurance Program (CHIP) funding

permanently extend the option for states to offer 12 months of Medicaid coverage to new mothers

continue Medicare's expanded access to telehealth by extending COVID-19 telehealth flexibilities through December 31, 2024.
FDA's Accelerated Approval
The omnibus also will shorten the period of uncertainty patients and clinicians face with medicines cleared under the accelerated approval pathway.
The Food and Drug Administration (FDA) uses accelerated approvals to give conditional clearances to medicines for fatal and serious conditions based on limited evidence signaling a potential benefit. Companies are expected to continue research needed to prove whether promising signals, such as stemming tumor growth, benefits patients.
Concerns have mounted when companies delay confirmatory trials or try to maintain accelerated approvals for drugs that fail those trials.
Pallone said the omnibus contains provisions that:
requires the FDA to specify conditions for required post-approval studies

authorizes the FDA to require post-approval studies to be underway at the time of approval or within a specified time period following approval.

clarifies and streamlines current FDA authority to withdraw approvals when sponsors fail to conduct studies with due diligence.
Reshma Ramachandran, MD, MPP, MHS, who serves as the chair of the Doctors for America's FDA Task Force, told Medscape Medical News she was pleased to see these provisions pass. She had been disappointed they were not included earlier this year in the latest Prescription Drug User Fee Act (PDUFA) reauthorization.
The provisions in the omnibus make "clear what steps the FDA can take to remove an unproven drug off the market should manufacturers fail to complete these studies or demonstrate meaningful clinical benefit," Ramachandran wrote in an email.
Ramachandran said she hopes lawmakers build on these steps in the future. She suggested Congress add a mandate to require drug labels to clearly state when the FDA is still waiting for evidence needed to confirm benefits of medicines cleared by accelerated approval.
"Nevertheless, Congress in including and, hopefully, passing these reforms has made it clear that drug companies need to provide meaningful evidence that their accelerated approval drugs work in patients and FDA can take action to protect patients should this not occur," Ramachandran wrote.
Kerry Dooley Young is a freelance journalist based in Miami Beach.
For more news, follow Medscape on Facebook, Twitter, Instagram, YouTube, and LinkedIn.
Source: Read Full Article